Credits
MAC_v1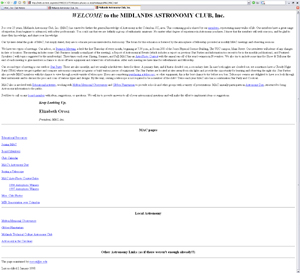 Around 1997, MAC put together it's first website (left). The website was hosted on an astronomy server at USC until 2003. While on that server, it's URL changed a few times.
MAC_v2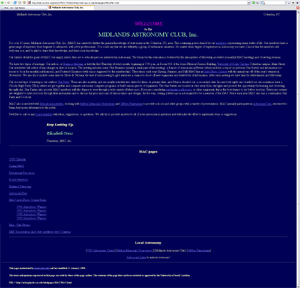 In late 1998, a committee redesigned the site (right). MAC_v2 was designed to take into account that most of the members were predominantly using modems. There were very few graphics. The AstroPhoto pages had in-between thumbnail pages that then linked to pages with full-size images. The colors were to try to pick up the dark blue of the SC flag and the text to be legible.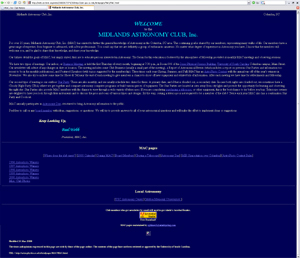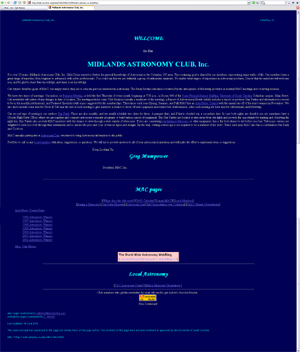 Further minor refinements were made over the years.
MAC_v3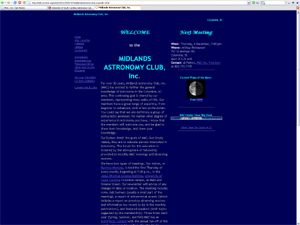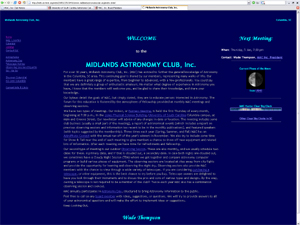 In late summer 2003, security changes at USC required that MAC find a new host. The site was moved to IX Webhosting and at that time the site was converted to xhtml but kept the same basic look.
MAC_v4 (current)
In 2006, MAC decided it needed a new look. A short survey was done. The web was searched. For a while, Elizabeth contemplated using a Content Management System. However, the task of implementing a CMS and converting the pages seemed rather daunting. Then in Nov 2006, as she searched the web for free website templates, she came across dcarter design and his tick-tock template. Two new graphics to replace the clock-themed ones were quickly made. The site was converted over within a few days, with a few extra days to tweak. New content areas were also added at this time and the organization setup to allow for expansion.